Some samples of our work
XS
XS CMS is a powerful and highly adaptable CMS created for MartaMartinez.net. It allows them to setup customized installations for each of their clients, making it a versatile and easy to use system. We've been adding new functionality over the years and XS has grown to be a very powerful option for their backend systems.
---
Sumescal S.L.
Sumescal is a Spanish company providing stages systems, mirror installations and various other structures for shows and events. We created the whole website, from design to deployment, including our own CMS InTune for the backend.
---
Batemans Bay Healing and Counselling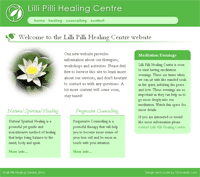 Visit the Batemans Bay Healing and Counselling
For the Batemans Bay Healing and Counselling website (former Lilli Pilli Healing Centre) we created a simple yet attractive graphic design that suits perfectly their business. The project included the creation of their logo and their business card, as well as a customized CMS, so they have full and easy control over the content of the website.
---
AM2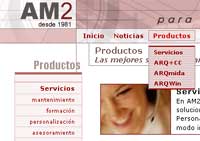 Go to www.am2.es
AM2 is a company based in Barcelona that develops architecture related software. They asked us to redesign their website both visually and in relation to content. We developed the new site from scratch, including a fully customized management system that allows AM2 to update the dynamic sections of their website from their own Word documents. This solution required the use of XML to integrate the website with their existing systems.
---
Mycle Heupel homepage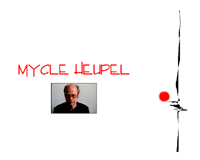 Visit www.mycleheupel.com
Mycle Heupel is a German artist. He's a musician, painter and inventor, and we created his website working closely together, organizing all his material in an integrated design that reflected his artistic vision. The website includes samples of his music, artwork and ideas, plus a simple news system so he can easily update the website and at the same time get feedback from his visitors.
---
CSS course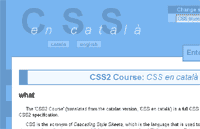 Check the CSS course at www.dense13.com
This is one of Gonzalo's personal projects: I wrote this course when I started to appreciate the power of CSS, with the triple objective of sharing my knowledge with other web designers, sharpening my CSS skills and creating a live example of a pure CSS web site. That is, creating a design without using a single image, only CSS!
---
Kristy Verenga homepage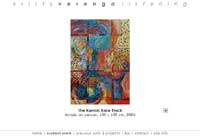 Visit www.kristyverenga.com
Kristy Verenga is an American painter that moved to Europe after working for years in New York. Her website is an online gallery with samples of his work, with a very clean design to enhance the website key element: the paintings.
Personalized relation
Every project we do is important to us. We won't be happy until we've done the best possible job, and have you fully satisfied. And once our job is done, we'll always be there may you need our help or advice. We're not here just for business, we're here to create, and we're good at that!
Integrated solutions
We specialize in web design and web application development, but we can also provide other related services including graphic design, marketing and consulting. And if we can't do it, we'll find the right people who can: over the years we have established a solid network of talented professionals in various fields to be able to provide a complete solution for your business.